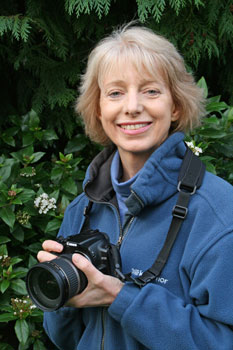 ABOUT SHEILA BLAMIRE
Sheila Blamire is a biologist and photographic artist with a unique eye for wildlife. In expeditions over twenty five years on every continent, Sheila has built an enviable portfolio of stunning and breathtaking images of our planet. From the Arctic to Southern Africa, from Asia to the Galapagos, Sheila's camera has captured an extraordinary wealth of images. "I've been interested in all forms of wildlife for as long as I can remember" explains Sheila. "My obsession is birding, but hand in hand with this goes my love of photography."

For Sheila, these twin obsessions have led to a remarkable reputation as a true inventive photographer, including her recent experiments with more unusual and unique images - hence the gallery 'Art in Nature', which will be added to in time. One feature that strikes most newcomers to Sheila's galleries is her incredible scope - from elephants to hummingbirds, from critically endangered Asian Lions to rare South American moths. Moths, like birds, have become an obsession. In 1999 Sheila set up a moth trap in her garden, which she runs throughout the year; today her garden list stands at just over 300 species of macro moths, including firsts for the county (Cheshire). Her world list of birds is the envy of many of her fellow birders.
THE COUNTRIES
In these galleries Sheila aims to show the essence of a country - both wildlife and scenery. It means that the galleries won't necessarily include just the best photos.
EQUIPMENT
"I started off with Minolta, before switching to Canon 35mm SLRs," explains Sheila. "I've always found the task of sorting through thousands of slides 'challenging', but since switching to digital the whole process is much quicker." A Nikon 5000 slide scanner is being used to scan some of Sheila's best 35mm slides, so enabling some of her older work to be displayed on this website and increasing the number of live galleries.

Sheila's current equipment is:
2 x Canon 7D mark II bodies
Canon EF 300mm f2.8 L IS USM
Canon EF 100-400mm mark II f4.5-5.6 L IS USM
Canon EF 70-200mm f2.8 L IS II USM Canon EF 70-300mm f/4-5.6 L IS USM
Canon EF-S 18-200mm f/3.5-5.6 IS
Canon EF-S 10-22mm f3.5-4.5
Canon EF-S 60mm f2.8 Macro
Canon Extender EF 1.4x III
Canon Extender EF 2x III
Canon Speedlite 580EX Flashgun


If you're interested in ordering copies of any of her images, or in using them for commercial purposes, please send an email using the contact below.